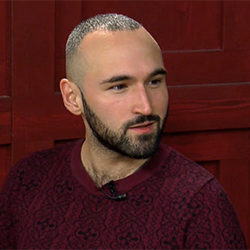 The refugee experience through art
By Lauren Malyk, Alexandria Pankratz and Michal Stolarczyk —
Alexandria Pankratz spoke with Francisco-Fernando Granados, a performance artist taking part in Nuit Blanche 2015. Granados exhibit "refugees run the sea…" plays off of a popular line "refugees run the seas because we own our own boats" from Shakira's song Hips Don't Lie. His work changed the line 'boats' to 'votes' to discuss justice for refugees and their future. Pankratz and Granados discuss his inspiration, the exhibit and the future.
For more information on Francisco-Fernando Granados, please visit:
Lauren Malyk, Alexandria Pankratz and Michal Stolarczyk , third-year journalism students produced this item for Toronto Today as part of their Reporting for TV Workshop class.